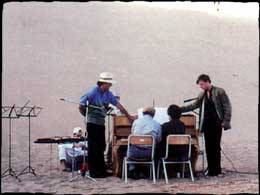 Date
: April 10, 2008 (Thursday)
Time
: 7:30 P.M.
Place
:
Meyer Auditorium
at the
Freer Gallery of Art
Tickets
: free but must have ticket, available
online
Acclaimed new-music ensemble
Continuum
, directed by
Joel Sachs
and
Cheryl Seltzer
, presents their chamber music discoveries from the lands of Genghis Khan and Tamerlane - rarely heard works by
Dmitri Yanov-Yanovsky
(Uzbekistan),
Sansar Sangidorj
(Mongolia), and
Zarina Mirshakar
,
Farangis Nurulla-Khoja
, and
Benjamin Yusupov
(Tajikistan). Continuum's worldwide tours have included four visits to Uzbekistan and five appearances at the annual Roaring Hooves Festival in Mongolia's Gobi Desert. "Simply put," says the New York Times, "no musical organization in New York produces more intellectually enticing or more viscerally satisfying programs than Continuum."
Thanks
: Elizabeth E. Meyer, Melissa and E. Bradley Meyer, the New York Community Trust—The Island Fund, Victor and Takako Hauge, and numerous additional donors.